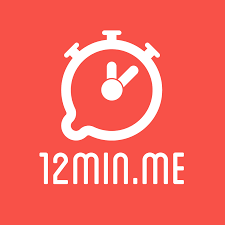 Place Description:
12min.me will transform your and our precious time into a captivating and inspiring experience. You'll meet new and fascinating people and you'll connect to a vibrant community, focussed equally on infotainment and networking.
12 minutes and not a second longer!
Time is our most valuable asset. Let's transform your precious time into an inspiring und unique experience. With lots of attitude, passion and love we as 12min.me organize regular events in your city – on a range of relevant and cutting-edge topics. We create a platform to educate, to develop new ideas and to connect you with fellow 12minuters without the hassle and bureaucracy of formal business clubs. Our events run on our signature 12 minutes me beat – and the clock knows no mercy!
Three speakers in each event get exactly 12 minutes to captivate and inspire you with their topic and to get their key learnings across. Immediately after that, the clock is all yours – you have 12 minutes to ask questions, offer insights or even enter a vivid discussion. All of it directly, in person and without filter!
Special Offers:
12min.me also hosts the 12hrs.us conference.
The events take place in various locations, make sure to follow the social channels.