Innovators.Hamburg Events
Join our online events!
Current on-site event planning is on hold due to COVID-19 restrictions. Follow us on LinkedIn and check out our updates on this website to get notified about new events.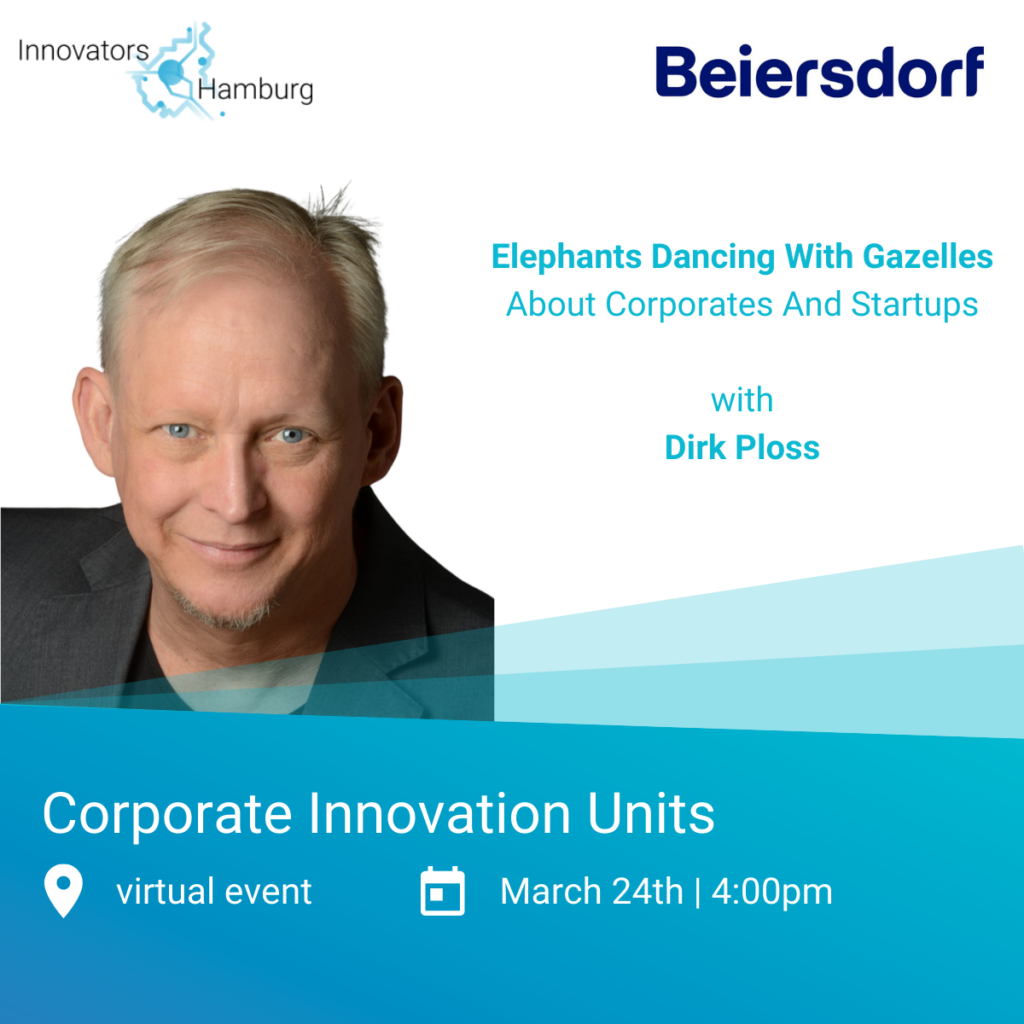 Event: 2022-03-24 Corporate Innovation Units
"Elephants dancing with Gazelles"

In our upcoming virtual event for corporate innovation units Dirk Ploss from Beiersdorf will provide insights about his experiences from corporates working with startups.
24th of March | 4:00pm | virtual event
You will have the chance to address your questions for Dirk in advance: https://innovators.hamburg/speaker-questions
Corporate innovators are invited to join this event!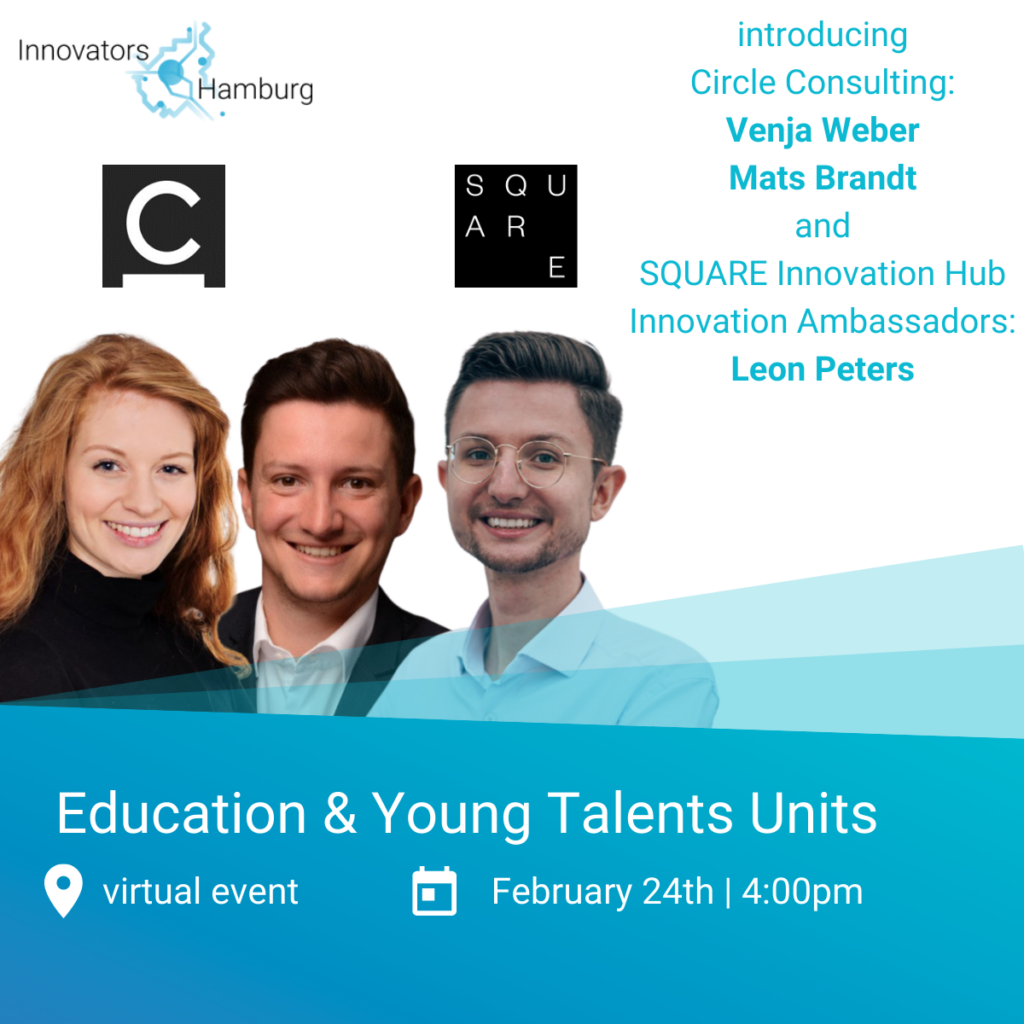 Event: 2022-02-24 Education & Young Talents Units
 Venja Weber and Mats Brandt from CIRCLE Consulting present their circular approach of their consultancy for students focussing on #sustainability, #digitalization and #social projects. In addition, they run a unique circular approach of incubating and re-investing into their own business ideas.
 Leon Peters from SQUARE Innovation HUB presents their #InnovationAmbassador community for #students, young talents and young professionals to discover and experience the latest technology and gain insights from current innovation projects of their partners.
Thanks for your interest and joining our call: Startup Port, Startup Bridge / Fachhochschule Wedel, Hamburg Open Online University, Hanseatic Consulting – Studentische Unternehmensberatung e.V., Hochschule Fresenius Pioneer Lab, ahoi.digital, Entrepreneursclub Nordakademie, Hamburg Invest YoTa & Future Hamburg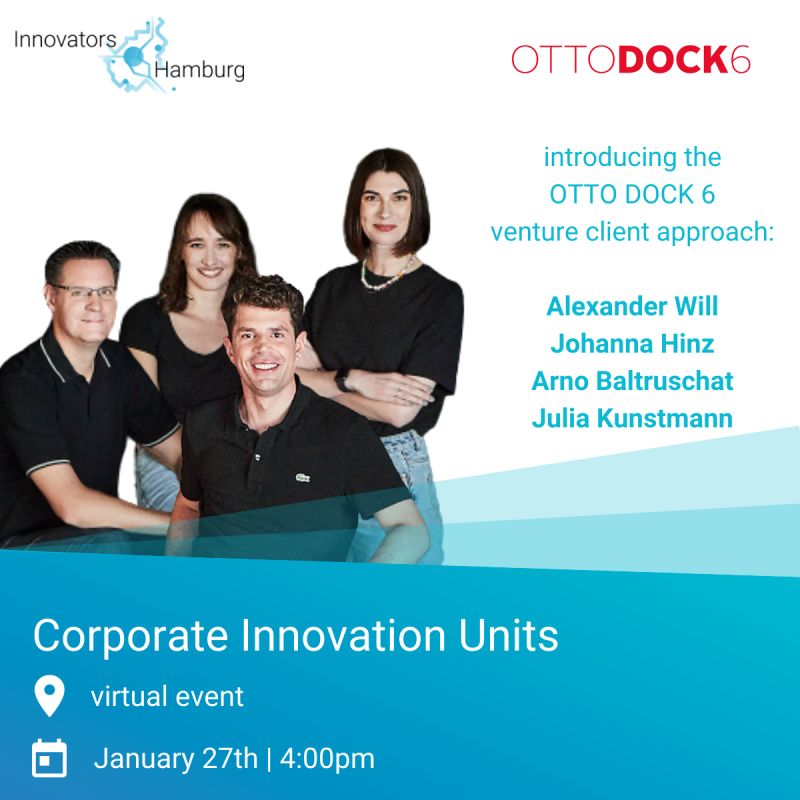 Event: 2022-01-27 Corporate Innovation Units